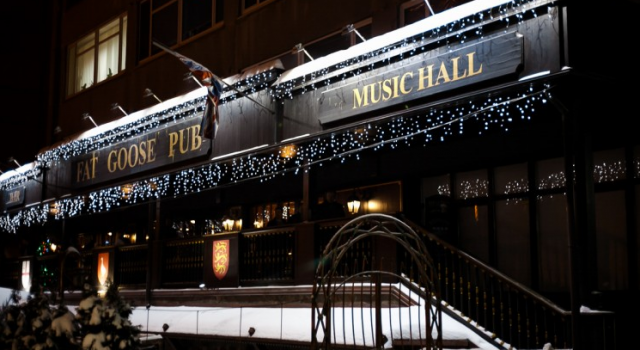 Time. 12:00-16:00.
Price. 33-55 UAH.
Menu. It offers 3 options, where the number of meals depends on the price. The quality is equivalent to the price. Do not expect mega-lunch of delicious dishes, but in general it is hearty and delicious, homemade like.
We have chosen: the first dish + salad + hot dish + fruit compote
– Salad. We ordered a meat salad: an interesting mix of chicken, pickled cucumbers and peas, a bit spoiled by limp and too soft Korean carrot. Another salad "Mimosa" consists of grated boiled vegetables + canned fish. For those who have tried it before – the taste is standard, no special adds from the chef.
– First course. Let's start with perhaps the worst meal ever.
Creamy mushroom soup – was a disappointment of the week. It was a grey tasteless mass. Second place goes to the soup "Kharcho". A good mix of spices, but in our opinion it lacked tangy flavor and piquancy. The "Village" soup takes pride of first place, because it was delicious for those who do not mind chicken navels =)
– Second course. A small disappointment: ordinary cutlet with mashed potatoes, but the taste of this dish brought us pleasure: mashed potatoes lump free, chop is juicy with a strong taste of Provence herbs. Chikenburger consisted of chicken patties, pickles and a nice sauce. Crispy bun was fantastic. It was
accompanied with the potatoes in Creole, which was also good. We also ordered zrazy, a traditional dish of Belarusian cuisine. It is made of baked mashed potatoes. Our zrazy were with meat and sour cream. They did not impress us much.
– Drinks. Perhaps in Fat goose they all believe that the choice = evil. Menu offers only compote. Only. However, it was delicious, quite cold and semi-sweet. But maybe it is reasonable to add some tea or coffee at least?
Service. The waiter was polite and friendly, not importunate. He did not make any mistake in our orders thought the number of meals was rather big. Errors in our order is not allowed. He brought out all the ordered meals quickly. However, considering the size of dishes it was a bit uncomfortable to sit at the "full" of dishes table. It could be better if the meals come one after another. But it was 2nd floor, so that's ok.
Interior. The bar has several rooms: there are tables for large companies and there are several bar counters for singles. The interior is styled by the English cabinets with large armchairs, leather sofa, massive tables and lots of retro details. Unfortunately, in our opinion the room was too cold and dark. But nobody promised you paradise…
Location. Centre. Kosmicheskaya Street, 21
Type of cuisine. Business lunch – traditional Ukrainian. Regular menu offers various types of alcoholic drinks and snacks.
Music. Mainly Russian art rock.
Smoking. It prohibited in the hall. Allowed on the veranda.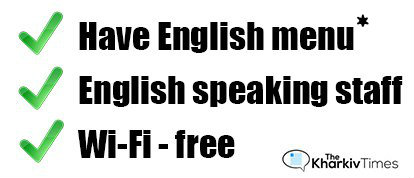 *Only basic menu is in English.
Parking. No parking.
Payment. Cash and credit cards (Mastercard/Visa).