Officials of the regional public reception office of the Minister of Defense of Ukraine and the leadership of the NGO "Women's power of Ukraine" held a work meeting, on which they discussed a number of important issues.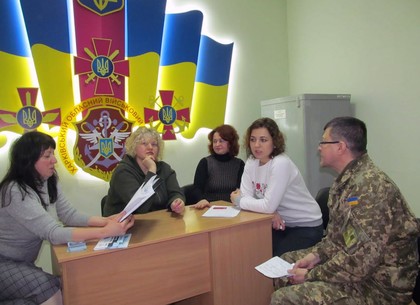 Deputy military commissar of the Kharkiv region, Lieutenant Colonel Andrei Semenovich told about the work of the reception: "The first days of the social project showed that problems are solved on the spot: with the assistance of the garrison command, the regional military commissariat or after manual intervention of local authorities".
Chairman of the Ukrainian public organization "Women's power of Ukraine" Nataliya Didyk offered to involve her collegues: "in our volunteer associations there are qualified lawyers, experienced psychologists and social workers. Their potential will help in solving the problems of soldiers and their families".
She believes that the presence of members of the public organization in the reception and the regional recruiting office would be a kind of public control over the performance of government agencies.
Recall, the officer of the regional military commissariat, Lieutenant Colonel Igor Plugator was put in charge for organizing the reception.