Today we want to tell you about an interesting project for extreme sports lovers which joined together under one roof skaters, rollers and cyclists. We were talking with one of its founders and just extreme cycling enthusiast Sergey Yeroshin.
– Sergey, please tell us how the idea of ​​the park has appeared and who was the initiator?
– Very easy. For already 20 years everybody knows about such parks abroad and successfully implemented their sportive potential there. But, unfortunately, domestic equivalents rarely meet international standards. This is one of the reasons why we decided to build our park. Our friends in common introduced Stanislav Gartsuev to me. It turned out that I lived next to the Stas' house and we both assembled bikes of our dreams for that moment. We started to communicate and ride a bike together. Stas suggested the idea to create a park. We hesitated for a long time but the desire to do something really good and useful nevertheless overcame.
– Did you oriented on foreign parks while creating your own park?
– Many people who are trying to build their own parks stumble over little things, although it's enough just to repeat exactly what has long been invented and tested. Plus, there are specific details that not everyone knows but Stas knows. Unleash – we will construct anything, measure everything to the millimeter to make it right. He followed this industry for many years, collected information and detailed drawings. Recently, we saw on the Internet the review of the Ukrainian parks and realized that, in fact, there is no one to ask advice. Technical estimates are sad. We carried out an analysis of the figures for all the parameters from the review and understood that we are moving in the right direction. Only a person who rode in foreign parks and knows the difference can recommend us something useful.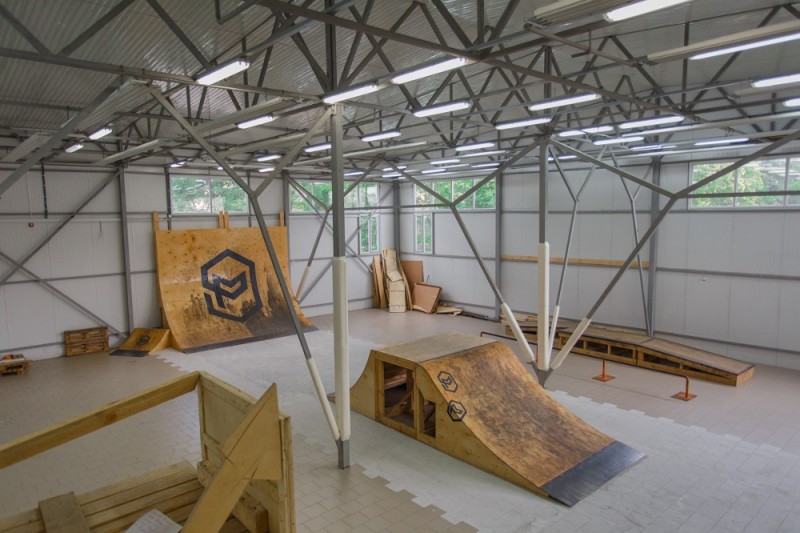 – Does city government help you with your project?
– We addressed to the city government two or three years ago but it remains at the level of conversation. For us and for the project better not to contact with the authorities, even though we do quite an important social function – give an alternative to street for children and teenagers.
– What is the purpose of your project?
– Our goal – to create a comfortable space, community for development of professional sportsmen. We're going to make a sports complex with a bias for extreme disciplines. Any active sports that we can realize will step by step appear in the park. We'd most like if combine under one roof different directions of urban culture and extreme sports, climbing wall and the rope park. In the park is already operated several schools of extreme disciplines: BMX, skate, roller. Also we have a tight-knit team of trainers (also extreme sports lovers) that will teach safety and skills of young sportsmen from 8 years. This is what missing our city. Park – is primarily a growth spurt for riders. A lot of guys who ride in our park say that before they ride for themselves, and now they are interested in growing up professionally and touching the culture of this sport.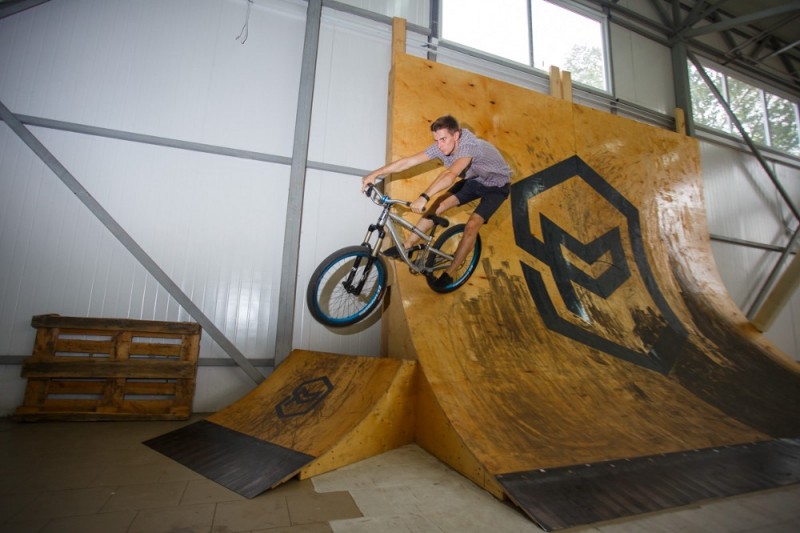 – Are there in Ukraine similar parks and competitions?
– Yes, but just small scale competitions. Currently, our project is unique for our country. This is due to the fact that we want to combine in one place a quality indoor park with foamed rubber pit filled with soft cubes which allows to protect sportsmen from traumas, as well as street dirt-park (a specialized track for riding on dirt jump bicycles, consisting of earth embankment-springboards and wood structures) to reinforce skills. It will be the year round training base with all the conditions for professional development of sportsmen. By the way, in our extreme park has already passed a couple of large scale competitions on BMX-park and dirt jam which was attended by more than 50 participants from different regions of Ukraine. And recently was held the first match of riding on extreme scooters by the efforts of the young sportsmen.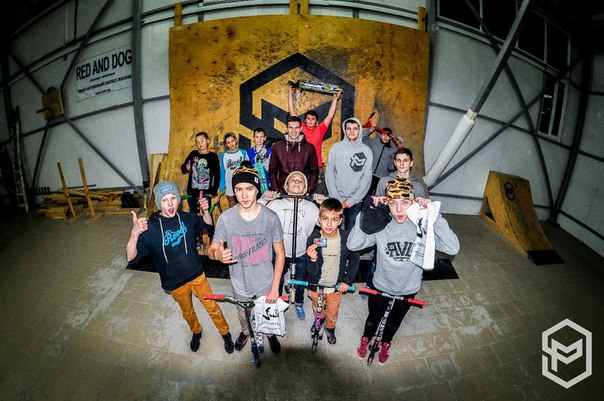 – What was the biggest difficulty for you in the creation of the park?
– The biggest difficulty was to find convenient premises. We beat the town for its search. We needed the premises with a ceiling height of not less than six meters because sportsmen "take off" and performed tricks airborne. There were not a lot of such premises in Kharkiv: generally, it was the industrial buildings on the territory of the former large factories and often in a terrible condition. We found a suitable place on the Halturina street and rented a store building. For a month we have made a small repair and built by ourselves wooden figures to perform tricks. For the start of the project we have invested 50 000 hryvnias – own savings and borrowed money from friends and relatives. The door of Extreme Park of ​​500 square kilometers in area was opened in late June.
– Who are considered to visit your park?
– Our project is a place for experienced sportsmen and amateurs. We want to create a base for the development of professionals who will be able to enter the European and world level, to turn the park into a friendly environment for all extreme lovers. The additional motivation for us serves happy faces of our guests. We know – what we do is necessary for many people.
– Is it difficult to find investors?
– We had on the horizon investors but after a sharp shift in the situation in the country, they have lost interest to our project. We could long time just sit and do nothing but suddenly after a long search, we found this building, and we decided to take the chance. You never know what you can do till you try. None of us wants to sit in the office, we want to do what we love and a favorite thing for us – park. This is our main motivation.
– Sergey, thank you very much for sharing with us your ideas and inspiration. You give a wonderful example by the reason that you weren't afraid to take a risk in a crisis and realized your ideas into a dreamed project. We wish you good luck in the development of your park and are looking forward to see its great success! Kharkiv and Ukraine need such projects that enable people to develop far and wide, and to grow professionally.