On December 8 was held the meeting of deputy chairman of Kharkiv Regional State Administration (KRSA) Julia Svetlichnaya and Mark Becker with a delegation of Italy business circles.
The parties discussed possible directions of cooperation. Julia Svetlichnaya stressed that in the region is a stable socio-economic situation despite the fact that Kharkiv is located on the border with the Russian Federation and the ATO area.
"Certainly, those directions of cooperation that we have established with Italy remain a priority. We also have a lot of spheres that are already developed and proved its strong position in the global market," noticed Julia Svetlichnaya.
Mark Becker noted that the state administration is interested in cooperation in the sphere of energy saving technologies and energy efficiency.
The Honorary Consul of Ukraine in Italy Marco Toson stated that he sees huge potential for cooperation with Kharkiv region in various directions.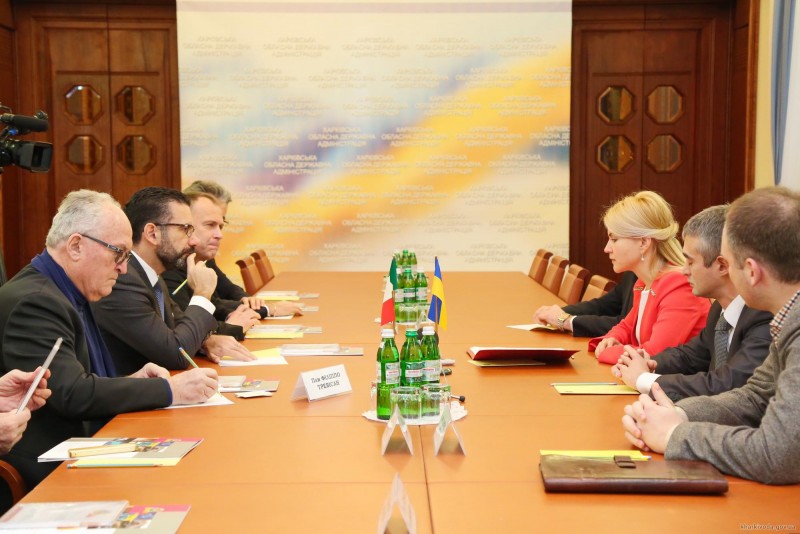 "We believe that Kharkiv region – one of the best and, perhaps, the best potential region of Ukraine. We heard that here is represented agriculture. We also have it but in recent years we have shifted from the production to the recycling, all the processes have been automated. I think that these technologies and approaches can be useful for Ukraine and Kharkiv region in particular," said Marco Toson.
Also, the representatives of the Italian delegation expressed interest in cooperation with our region in research and energy spheres.
"There are a lot of projects that can be worked on. But I would like to focus on the energy efficiency projects. From our side we are ready to give 50% of investments and 50% – from Ukraine. There is an opportunity to obtain funds and grants from the European funds," told Marco Toson.
Julia Svetlichnaya stressed that this sphere of ​​cooperation is promising. The work in this direction is under the personal supervision of the head of the region Igor Rainin.