Time. 12:30-15:00.
Price. 160 UAH.
Menu. The buffet style is offered here. You can take one or several plates and collect as much food as you can handle like. During lunch time, you can take a supplement or try other dishes (there is no limit set). It is worth noting that the menu changes every day.
– Snacks. Among appetizers you may find various cheese types (Brie, Camembert etc), ham, bacon etc.
– Salads. Vegetarians will be pleased with the choice of vegetables: peppers, lettuce, celery, carrots, tomatoes and peeled cucumber sauce with cilantro. All the vegetables were fresh and juicy, and different sauces may perfectly complement the taste. The most popular salad according to our review was "Russian salad" called "Olivier" here. Caesar was also among the favorites of the audience of the place.
– First course. The waitress informed us that, unfortunately, today the menu contains only one kind of soup – the ear. However, the this soup with red fish was rather good. Especially for those on a diet as it is an easy soup with a rich fish flavor.
– Hot dishes. There was a choice of: potatoes, buckwheat, vegetable stew and chicken, fish steaks in batter, goulash with beef. We have tried everything, except buckwheat (nobody would argue that it is impossible to spoil buckwheat, right?). Large pieces of potatoes  were combined with the beef goulash (pieces of meat weremelting in the mouth), and the chicken perfectly complements vegetable stew. Fish in batter seedless was soft and gentle.
– Sauces. Chefs offer many kinds of sauces: tapenda, tartar, vegetable salsa, sour cream, mayonnaise, mustard. On the tables there are bottles of soy sauce and olive oil.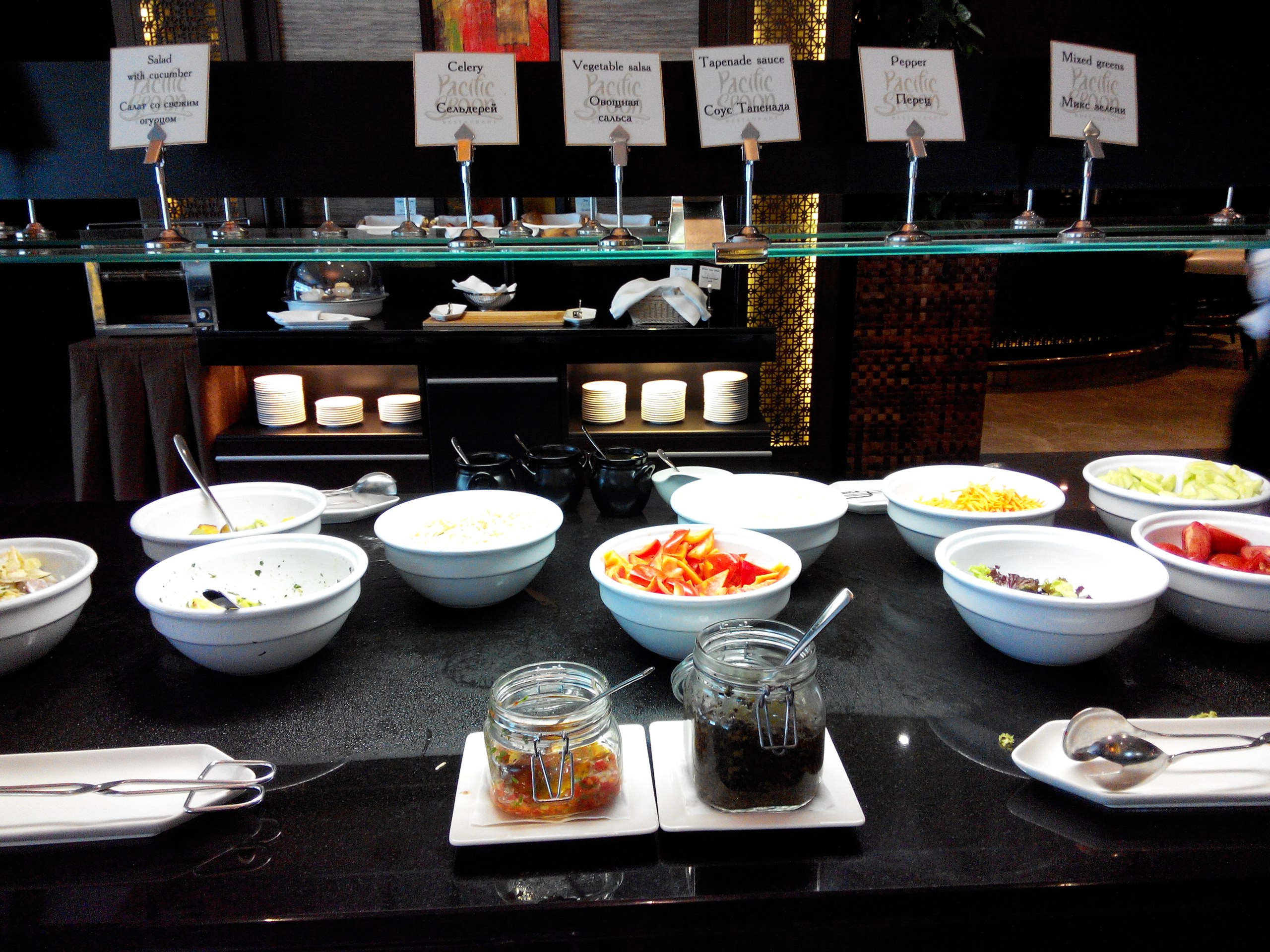 – Drinks. You can also choose from several types of juice: orange, cherry, apple. If you wish, you can enjoy tea, coffee (waiters served it for you).
Service. Unobtrusive service. The waitress was polite. The used dishes were put away when needed, brought the coffee very quickly.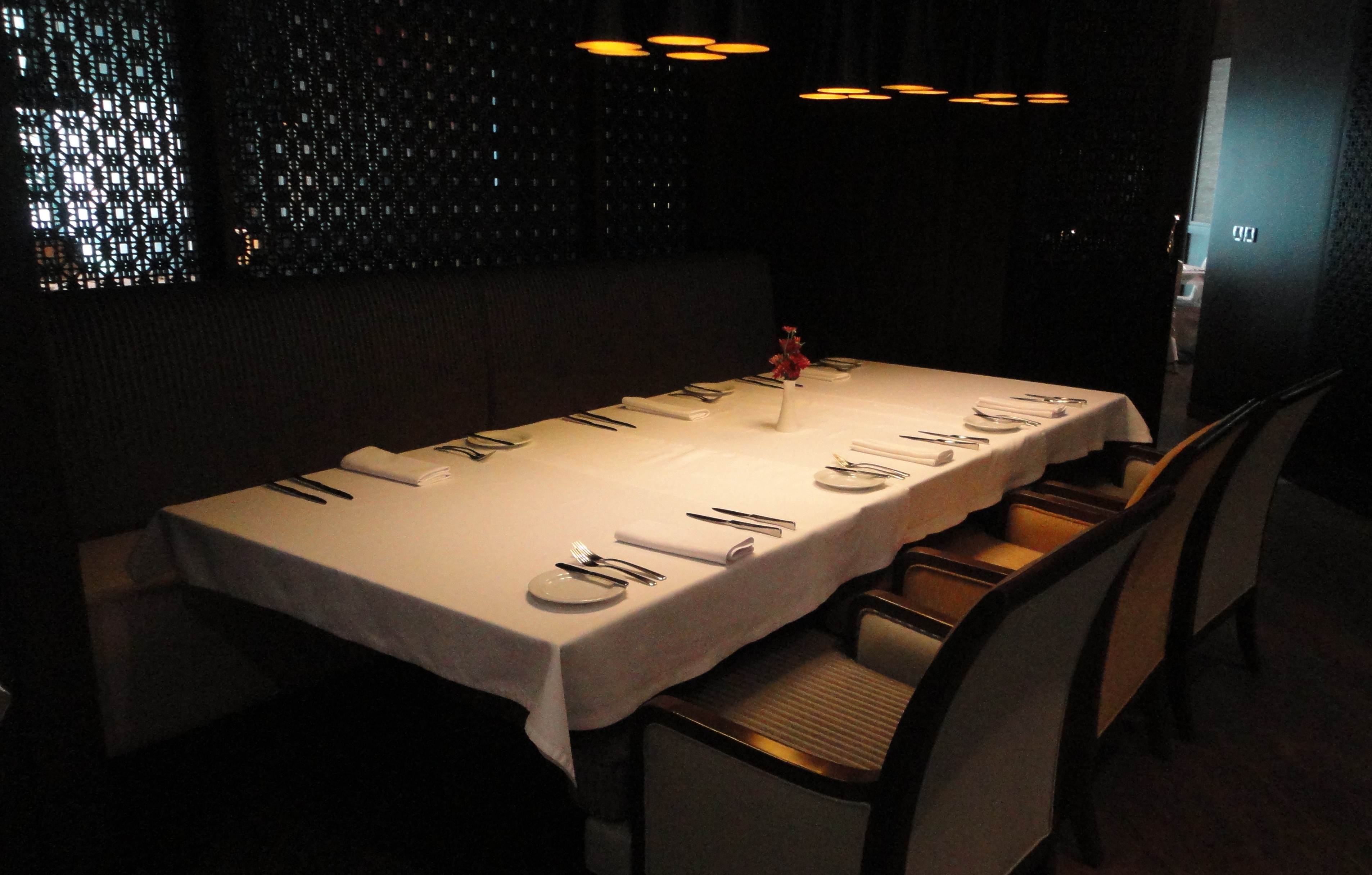 Interior. The carved panels of wood, soft light, designer chandeliers, windows, Asian motifs in conjunction with minimalist chairs. The interior of the restaurant is conducive to celebrations and business meetings. If you are the fan of chic, gloss and pathos and prefer traditional dishes – this place is for you. Also we would like to note that this place has the biggest choice of different food types thanks to the buffet format.
Location. Centre, Pravdy avenue 2.
Type of cuisine. Mediterranean cuisine.
Music. Lounge. (some contemporary remixes, instrumental versions, cons)
Smoking. Forbidden.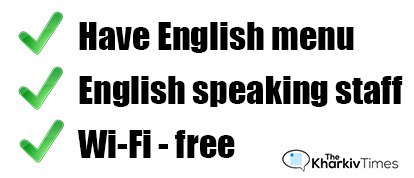 Parking. The hotel parking.
Payment. Cash and credit cards.